The year 2020 saw the launch of four new iphones. They are the iPhone12 Mini, iPhone12, iPhone12 Pro and iPhone12 Pro Max. Different models come in different sizes, functions and prices. To meet the needs and budgets of many customers.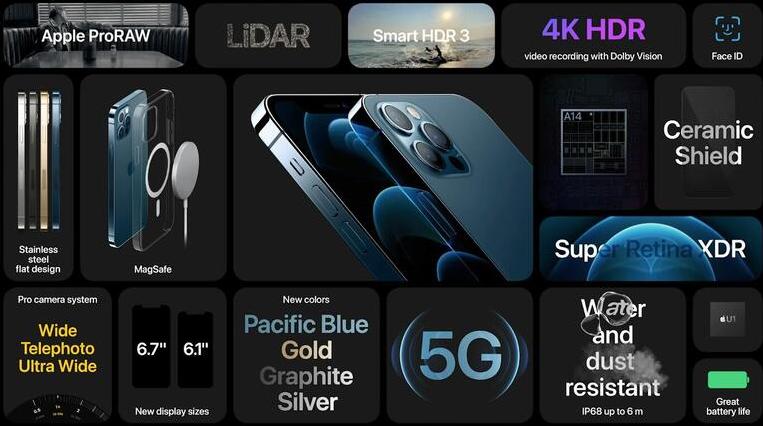 The 5G technology in the four new iPhone 12 models all supports up to 6GHz and Mmwave networks. Spectrum below 6GHz can travel further and is more resistant to interference. But it is also crowded, limiting its actual speed.
Due to the high power consumption of 5G, Apple also introduced smart data mode features. When 5G is not needed, the phone will automatically switch to 4G.
The latest iPhone is powered by the new A14 Bionic processor. The iPad Air 4 2020, announced in September, also has the processor. The A14 is designed to improve performance and save battery life. The new six-core processor has four efficient kernels and two high-performance kernels.
All four new iphones have OLED screens. Apple's Super Retina XDR display and high Dynamic Range (HDR). These are some of the most advanced screens built into the iPhone today. Provides 2 million: 1 contrast and a maximum brightness of 1200 nits. Taken together, these features provide superior image quality. It has more accurate colors and better contrast than traditional LCD screens.
The iPhone 12 has ceramic in its front glass display. This makes the screen stronger and more crash resistant. Nanocrystalline ceramic crystals were grown in glass matrix by high temperature crystallization method. According to Apple's tests, the Ceramic Shield 11 gives the iPhone 12 a 10 times better drop performance than the iPhone 11.
The iPhone Mini and iPhone 12 have two 12 megapixel rear cameras. The iPhone 12 Pro and iPhone 12 Pro Max have three 12 megapixel rear cameras. In addition, Pro and Pro Max use a fourth lens for LiDAR mapping. In order to measure the distance and depth of objects more accurately. It also has the fastest aperture the iPhone has ever seen. In low light conditions, the aperture can provide 27 percent of the light.
With the new product, MagSafe has improved the phone's built-in wireless charging capabilities. To achieve faster and more accurate charging. MagSafe also offers a magnetic dock that attaches itself to the phone.
The new iPhone also has some cosmetic changes. The edge of the phone has changed. Revert to a flat edge design from the rounded edges of the iPhone 11. Make it look more fashionable and beautiful.
Overall, the iPhone12 is a big improvement in many ways. You can see Apple's sincerity. But there are some contentious points. Like not giving away charging plugs. Ultimately it's up to you to buy what you like. If you are looking for new styles and trends, you can still buy them.